September 09, 2004
Links to Convention Reports
Here are some links to Noreascon 4 reports that we're aware of....
astolat on Live Journal
Cormac Russell reports on a number of panels.
View of the Hugo trophy from designer Scott Lefton's site.
David Levine, Part 1 and Part 2
rushthatspeaks on Live Journal
Also, all of the at-con newsletters (including the hoax issue!) are available in PDF.
Posted by Noreascon 4 at 07:59 AM in 8-Post-Con | Permalink | Comments (3)
September 07, 2004
Death and Closing Ceremonies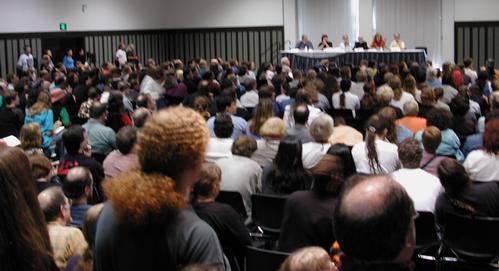 Dateline 2pm, Monday, the 6th of September, 2004
This is the (occassional?) (oxymoron?) trufan clp reporting from the edge of the convention...
One of the best panels of the Con was one of the last... from 2-3pm record crowds pressed into H312 to hear SF luminaries Edelman, Gaiman, River, Pratchett, Willis, and Niven trade an ever-growing set of puns, SF, fantasy, and horror remembrances, quips, counters, anecdotes, observations, and musings on death and the afterlife and its use in fiction. Larry Niven pointed out the virtues of death. (Only Philip K. Dick sells books to movie studios). So later Niven said when asked what ghosts want, they want movie rights! A touching moment was when Uncle River related a recurring dream of his mother being unable to accept her own death, and when she did in a final dream he felt closure and the "reality" of it (more than just a dream). The panel constantly cracked each other up, and a great time was had by all!
Closing Ceremony
The time lapse video of the auditorium setup, Vulcan greeting attempt by a Glasgow tourist rep, and the one-main con "replay" for Deb and staff (who never had time to see the Con, of course) were highlights of the event bittersweet but traditional close of a wonderful Con. (On to teardown for this reporter!)
Posted by Noreascon 4 at 04:08 PM in 7-Monday | Permalink | Comments (0)
Monday Night
On Monday night, with things winding down, I went out for my first leisurely dinner of the convention, to a nearby steakhouse, with Texas fans Kurt and Michelle Baty, Scott Bobo, and Ed (sorry, I forgot your last name), plus Craig Miller, Jenny Dazzo, Kelly Persons, and Rick Katze. After devouring a number of steaks, lobsters, vegetable platters, and chocolate souffles, and some very congenial conversation, we strolled back and Craig and I headed up to the Past Worldcon Chairs party, up in the suite of our newest and happiest member, Deb Geisler. There SMOFing was committed, including some discussion of the possibility of doimg some sort of First Night-like event at Intersection next year. Cool. Imitation is the sincerest form of flattery!
Shortly after 10:00 we took the traditional photo of assembled past con chairs, although unfortunately a few of the eligible attendees didn't make it. Some had left that afternoon, Tony Lewis (Noreascon I chair) was not feeling well, and Peggy Rae Sapienza and newly-selected chair Hiroake Inoue arrived later in the evening.
After the picture, I went down to the Dead Dog party in the con suite, and discovered that the last bit of First Night had finally been completed; Bob Devney had printed and distributed the FIRST Night TIMES one shot that was written during First Night! I got to look at someone else's copy and will hopefully get my very own copy the next time I see Bob. I believe we'll be making these available to anyone who wanted a copy and could not pick it up at the convention; we'll be posting something on our regular news blog in the next few days.
Past Worldcon Chairs Photo from Noreascon 4:
Posted by Leslie Turek at 03:48 PM in 7-Monday | Permalink | Comments (0)
September 06, 2004
Closing Thoughts
The Worldcon is now over. Nomi and I are home and will soon collapse into bed for a good night's sleep. I regret that I haven't blogged as much as I could have, but I am delighted that real-time blogging became a part of Worldcon this year. It was because of this that Nomi and I got to meet some wonderful people, our fellow bloggers, and make some new friendships that should last a lifetime.
I suppose I could go into details what I did this Monday, skipping the Sunday stuff. I could tell you about my Kaffeklatsch, in which we reconnected with the very first person who ever came to my very first convention reading, almost ten years ago. I could talk about our one actual hour in the dealer's room browsing (as opposed to the hour on Sunday we worked the NESFA Press table). I could tell you about the fine panels I was on today, Alternate Holocausts and the one on television arcs. And I could tell you how much I enjoyed the Closing Ceremonies.
But you know, I'm very, very tired. I might post about this sort of thing later, but in my own space and in my own time. I hope the con won't mind it if I leave some pointers here. If you liked my posts and want to read more about my life, I keep a LiveJournal under the name mabfan at http://www.livejournal.com/users/mabfan . And if you want to find out more about me and my work, my webpage is at http://www.mabfan.com .
Nomi and I would like to congratulate everyone on committee, staff, and volunteers who helped make this convention such a great success for all of us. We were delighted to have been able to do our little bit on program staff and publications staff, and are sorry that we couldn't contribute more.
Posted by Michael A. Burstein at 08:35 PM in 7-Monday | Permalink | Comments (1)
Monday, and Final Thoughts: Or, What I Learned from Noreascon 4
Monday I head in to the con to visit the dealers for a final time, go to a kaffeeklatsch with Laura Anne Gilman (a fine time, and you should all buy her book, Staying Dead, which I've read and which is excellent). I also go to a couple more panels. My final panel of the con is on SF Chick Flicks, with MaryAnn Johanson, John Pomeranz, and John Scalzi, whose weblog I read. As the panel starts, John Scalzi admits to having a massive secret online crush on MaryAnn Johanson. I'm very amused and wonder if it's going to get mentioned on his weblog. Blogging about a blogger: somehow, I feel almost meta. The panel's good, too.
On to Things I Learned at Noreascon 4. Number two piece of information about being a writer: self-promotion is good. Number one: don't spend the advance. Number zero: don't be a writer. (But if you're going to write anyway, you might as well be good and get people to pay you.)
I discovered that the panels I knew least about were the most interesting. I'm not making any statement about how interesting they were overall, but they were the most interesting to me personally. Two of the programming items I enjoyed the most were things I knew nothing about. This afternoon's panel on costuming disasters was a case in point. I know perhaps too much about writing disasters, but I knew nothing about costuming, and it was great to get a look into what makes other people bang their heads in frustration. Another example: I wandered into something else I knew nothing about on Thursday night, when I showed up for the slash panel at the correct spatial coordinates but with the temporal coordinates off by twenty-four hours-- and wound up at an audience discussion of John Myers Myers' Silverlock, which I'd never read. It was a great time, and I wound up getting the book in the dealer's room. (I also learned that I should keep myself out of the dealer's room, but that's another story.)
One of the things I was looking to find at this con was whether the SF community was one I would feel comfortable as a part of. As someone in my fifth year of working with the IgNobels-- which have a differently focused but not dissimilar community as compared to fandom-- I had a feeling it was, but I hadn't been in the larger world of fandom before. I've been a part of other communities of those interested in writing and the English language, and I found that none of them can top the kind of joy that people at this convention found in the art of writing and in the experience of reading. After this weekend, I can say that if I'm going to be a writer, this is the community I want to be a writer in. Now: off to start submitting!
This has been Gen Jules Reynolds, blogging live and without a net from Noreascon 4. I'm too tired to come up with anything original to tie this together, so I'm stealing from the best: Jerry Springer. Until next time, take care of yourselves-- and each other.
Posted by Gen Jules Reynolds at 07:19 PM in 7-Monday | Permalink | Comments (0)
Teardown
Craig Miller asks Vince Docherty what a well-dressed Scotsman carries in his sporran. Vince reached in and pulled out his cell phone, "set on vibrate"....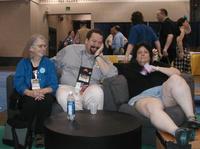 The First Night idea trust. Priscilla Olson, on the right, had the original idea. John Pomeranz was the first area head and led the initial brainstorming. Leslie Turek, on the left, ran the area since March, when John had to resign due to real-world work pressures.


Posted by Leslie Turek at 05:38 PM in 7-Monday | Permalink | Comments (0)
Closing Ceremonies
The ceremony began with the Boston signature fife and drum corps.


We said a last good-bye to all of our guests, and Deb gave them each a big bag of goodies from the convention.


Chair Deb Geisler passes the gavel(s) on to next year's Co-Chairs, Colin Harris and Vince Docherty. Since Vince is a repeating Worldcon Chair, he got The Big One. Vince told Deb that he understood that one of the big problems when you're running the Worldcon is that you don't get to see it. So the Intersection committee attempted to rectify that by replaying the entire convention for her right there. The One-Man Worldcon, starring Michael 'Sparks' Rennie, started with the belly-dancing and Terry on Trial from First Night, showed Terry begging Peter Weston for a Hugo at the Friday night event, and went on to cover the rest of the convention in brief, ending with the Star Wars One-Man Show ("It's terrible being a Jedi when you're father wants to kill you and you fancy your sister."). Great fun. (Sorry, no pictures, Sparks was moving too fast...)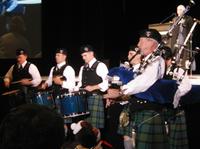 Interaction closed the ceremonies with a pipe and drum group that led the audience out of the auditorium and in a procession around the Convention Center.


Posted by Leslie Turek at 04:59 PM in 7-Monday | Permalink | Comments (0)
The Gripe Session
I'm a bit of a gripe-session junkie. I like to attend Worldcon gripe sessions because it helps me understand what things are important to the attendees, pick up good ideas for future use, and learn what perennial irritants to try to avoid. So I've taken fairly detailed notes on the N4 gripe session.
Chairman Deb Geisler began by noting that Noreascon 4 is a one-time event; when the convention is over we will disperse as a committee. But we will pass your comments on to our successor Worldcons. "On a personal note, it's been an interesting and rewarding experience, one I'll never be able to have again."
Then she invited comments from the audience.
Continue reading "The Gripe Session"
Posted by Leslie Turek at 04:33 PM in 7-Monday | Permalink | Comments (10)
Monday
Mondays at Worldcons are the saddest but somehow the most pleasant times. Sad because everyone is packing up to go home. The panels are winding down, the art show is gradually disappearing through the sales tables, and everyone is rushing around to pick up that last item in the dealers room or to get in their membership conversion to the newly-selected Worldcon. (Or, in my case, to buy that $300 computer from the convention yard sale. I'm a confirmed Mac addict, but every so often I need to run something that can only run on a PC, and at $300, it's cheaper than buying Virtual PC - and faster.)
Pleasant because the crowds are smaller and people aren't quite so busy, and so you can hang out in the ConCourse and chat with the people who pass by. The Dead Dog party tonight should be a congenial group, and I also need to make an appearance at the ex-Worldcon chairs party. We have an annual get-together and group photograph, which is scheduled for 10:00 tonight. I'm sure Deb Geisler is looking eagerly forward to becoming an EX Worldcon Chair.
After First Night was over, I was pretty exhausted, so didn't get to a lot of program during the convention. But I did get to all of the big evening events, and had time for a pass through the Art Show and Dealers Room. This morning, Alex and I toured the Retrospective Art Exhibit as part of a docent tour given by Bob Wiener, which was very interesting. Later today, I'll report on the Gripe Session and Closing Ceremonies.
Posted by Leslie Turek at 01:00 PM in 7-Monday | Permalink | Comments (0)
Masquerade
There was no masquerade program, so I'll add captions to these when the Masquerade awards list turns up in the daily newsletter.


Uriel, The Archangel of Ecology (one of four new icons, based on the Hannah Shapiro paintings).


Half-time entertainment for the Masquerade was Charles Ross' One-Man Star Wars show, which was impossible to photograph because he was moving non-stop. He did the complete trilogy in sounds and gestures - here he's doing a tie fighter. He had all the music, voices, and sound effects, from the patrician British of Alec Guiness to the beeps and whirs of Artoo Detoo and the buzzing of the light sabers. You just had to be there - it was great!


(Dave Kyle came by as I was typing this in the middle of the ConCourse on Monday morning, and said "Stop looking so busy!")
Posted by Leslie Turek at 10:03 AM in 6-Sunday | Permalink | Comments (0)