September 05, 2004
Catching Up
Catching Up
It has been a busy last two days. I will attempt to summarize.
Friday
I don't know why I pretend that I will make any panels/events at a Con if they occur before 11 AM. Or even at 11 AM. Though my husband and I valiantly tried to make an 11 AM panel, it was just not to be. I did, however, manage to make the next panel I had scheduled at noon: The Future of Short Fiction (and Magazines). This is basically an annual panel. Every year people are convinced that the short fiction market is dying. However, to listen to this panel, that is a myth. It was reassuring to me for two reasons: I prefer reading short fiction and I prefer writing short fiction.
There was some discussion of the value of internet publishing. I think it was unfortunate that the panelists began that discussion by making generalizations. It is clear to me that they were mostly talking about the equivalent of vanity press: Anyone can throw up a webpage and "publish" their own work. Most of the time, it is crap. However, the generalizations covered any internet publishing, at first, meaning e-zines like Strange Horizons and Sci Fiction were included. The panelists later clarified that such markets were indeed great places for authors to submit their work and other smaller e-zines were also good training grounds. However, the very valid point that none of the e-zines are self-supporting. All in all, it was a standard panel of this title.
I had a little downtime before sitting in ConSuite for the next two hours. Which was when I finally managed to get my last post up, due to technical problems earlier in the morning. The Wi-Fi access is very good at this Con, however there are very few computers or laptop ports provided by the Con for direct, physical connections. There was a decent amount of grumbling about this set-up, though you can never please everyone. As the years pass, I'm sure different WorldCons will have different technological achievements. Note for next year's participants: Remember to bring adapters for your power chargers as there are different power outlets than in America.
KaffeKlatches: These are neat little events. Basically, a personality in the field agrees to spend 1 hour with eight interested fans over coffee and munchies provided by ConSuite. There are also Literary Beers, which are the same thing only the group meets over beer/cider instead of coffee/tea.
I signed up for Michelle Sagara West and Ellen Datlow.
Michelle was a lot of fun, as were the other participants. She was cool with the fact that I (and at least one other person) were there because we read her LiveJournal, but had never read any of her fiction. In her LJ, she discusses the various traditions and explanations and myths about book publishing. She has been a book store employee, a book store owner, an orderer, an author, and back to being a part-time books store employee while writing. So she knows many of the small ways an author can help their book take off and what authors can expect once they sell their first novel. The KaffeKlatch discussed a little of that, a little about her fiction [no spoilers, thankfully] and a little about books to come out. I enjoyed it because Michelle was just such a sweet person. See earlier entry about how people are nice here.
Ellen Datlow's KaffeKlatch was fun and informative for different reasons. Ellen is an editor, so has a different view on things than any author can have. Some people asked questions about how to sell to her and others asked how to become an editor in the field. She was very blunt and honest, which I appreciated. For any writers out there: SciFiction is very much look for SF. Ellen said she always receives too much fantasy and never enough SF, preferably hard though "rubber" is okay. And remember, SciFiction is the highest paying market in the field.
After the KaffeKlatches I attended the Wheatland Press Party, which was fun. I am friends with one of the editors of Polyphony, Jay Lake, who also has several collections out from Wheatland. The party was fun because I got to meet a lot of other neat authors, see Deborah Layne in passing, and cheer for my roommate Diana and her first SF publication in Polyphony 4. She even got asked to autograph her story. How cool is that?
After the party was a lovely dinner where I met more wonderful people (are you seeing a theme here yet?). My husband and I attended the Swing Dancing event for a short time, but they had just opened and the band wasn't set up yet so no one was there. We hung out at Frank Wu's party for a while, which was much fun. Frank is a sweet and wonderful guy who knows a lot of neat people. I went from there to the mystical SFWA suite to meet up with fellow blogger Michael Burstein.
Background: On his first blog I commented how much I enjoyed his Hugo nominated story, "Paying it Forward". He came over to my first entry and suggested meeting up. We exchanged a few e-mails and Voodoo Messages and finally cell phone calls before we established a meeting place and time. Michael and his wife Nomi were kind enough to stand near the door to the SFWA suite, as it is barred by a magical list of SFWA members and their guests. I'm sure I rubbed shoulders with many of the authors I admired that night, though it was too crowded to turn around and check every bump.
Michael and Nomi are good people. We chatted up at SFWA until the crowd was too much, then went down to ConSuite to wait for some of their friends, then I called my husband and we retreated to the privacy of their room. Basically, I got to spend 3 hours talking with a really neat couple about many things. And did I mention one of them was a Hugo nominee? And had wanted to meet me? Little ol' me? *squee*
Of course, I found out he wanted to meet me because I had said I liked his story. And that he was all *squee* about that. Which is one of the coolest things about Michael. He may be a well respected, multiple Hugo nominated author, but he's also still a fan of the genre and is surprised when people tell him how much they liked his work. It was refreshing and reassuring. I hope that when I'm a published and Hugo nominated author, I have the easygoing nature that Michael does.
Eventually we had to leave and I made my way back to Frank's party. I ran into a gentleman that I'd been introduced to via Nomi and he and I checked out the Evil Villain's party. It was a lot of fun to just help each other remember various villains. At some point, other member of the Technical crew came by and tried to hit me up for volunteering. Since I have no technical experience I turned him down. However, my husband had done lights for Rocky for a while so I went and asked him if he wanted to help out. Those two got to talking and my original partner in crime remembered that he still needed someone to help out with the greeting of the various guests at the Hugo Pre party. He asked if I wanted to help out. For some insane reason (probably ethanol induced) I played it like I didn't want to help out. So he fed me peeled grapes. What is a girl to do?
So it was that I was slated to greet the luminaries of the speculative fiction world preceding one of the largest award ceremonies in the field. I just hoped my dress was good enough.

Posted by Dawn Burnell at 03:19 PM in 4-Friday | Permalink | Comments (1)
September 04, 2004
Friday: Gen(eral) Jules' Diary
Parties 4 (vg), alcohol units 0 (bad, but was driving home), caffeine units 7, vampire bites 1, moments spent sqeeing like fangirl: hopefully zero, moments tempted to spend squeeing like fangirl: oh, hundreds.
I got to the Prudential Center at a little past six, and went to check messages. On the way, I ran into my friend Doctor Foo and a couple of his friends. Did I want to go to a party? Of course I wanted to go to a party. I rerouted immediately.
Most of the wonderful and fascinating things that happened last night won't be mentioned here, if only for considerations of space. But a choice few:
-Listening to Sean McMullen, whose Souls in the Great Machine and The Miocene Arrow I loved when I came across them last year, sing a beautiful song about a truly disgusting subject.
-Discussing goat dressing on the gay rodeo circuit with one of the people at the Evil Genius party, a party for the Silicon Valley Costume Con bid, which had walls full of evil geniuses (and a can of cat food). Much debate was had over which evil genius was most impressive. My personal vote: Scratch Fury, Destroyer of Worlds, from PvP. He only came out last Christmas. That's an impressive degree of responsiveness in Evil Genius expertise. Also: goat dressing is interesting stuff. (There has to be a DVD.)
-Having my blood sucked at the Boxboro Fandom party, which was awesome-- definitely a party worth a toll of blood. Amazing decorations and people and very scary looking drinks. Post-vampire bite, I'm still waiting to become dark and angsty but temptingly redeemable. (Nothing yet. Must take a little while.)
And now-- back into the city and off to panels and the dealer's room.
Still not General. Go me!
Posted by Gen Jules Reynolds at 10:26 AM in 4-Friday | Permalink | Comments (0)
Late-night fun
There was music late into the night at The Mended Drum (note the weapons in the door!)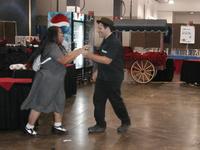 These guys were dancing just outside.


Posted by Leslie Turek at 08:58 AM in 4-Friday | Permalink | Comments (0)
September 03, 2004
Photos from Retro Hugos
Leslie here, back from the Friday Night "Time Travel" event. This was a combination event that included the 1954 Retro Hugos as well as interviews with the guests of honor.
The stage was a replication of the Harvard Bridge, and the evening commenced with some amusing stories of how the bridge got its name and is measured in "Smoots". The bridge divided the stage into two halves. The right side (in color) represented 2004, and was where the GoH interviews took place. The left side was in black and white and represented 1954, where the Retro Hugos were awarded.



The transitions between 2004 and 1954 were heralded by flashing lights and eerie theremin music by a group called "The Lothars".


Bob Eggleton was the host on the b&w Retro Hugos side. Here Joe Siclari is accepting the Best Fanzine Hugo on behalf of Walt Willis. (For a complete list of winners, see my previous post below.)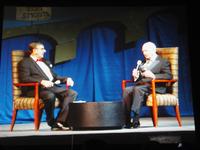 Peter Weston conducted the interviews on the 2004 side. Here is his interview with Jack Speer.


Jack Speer. Hard to believe that he attended the first Worldcon in 1939 at the age of 19. Although fandom has grown in size since those days, he said, "Things haven't changed as much as you think."


Phil Klass (William Tenn) gave a very amusing interview, with stories about the great editors John Campbell and Horace Gold. On Campbell's winning the Retro, he said, "I'm glad he won. He was entitled. He would have told you that himself."


When interviewing Terry Pratchett, Peter Weston pointed out that Terry has been awarded the Order of the British Empire (a title with somewhat less significance these days, now that there is no British Empire). But Terry observed that there is still one piece of empire left, "... a little island in the middle of the ocean with puffins on it. Those puffins damn well have to do what I say!"


As the final interview of the evening, Terry Pratchett turned the tables and interviewed Peter Weston about his experiences in British fandom and his role as maker of the Hugo rockets, "a matter in which I have some interest....", said Terry. "Are you suggesting that you haven't gotten a Hugo yet?", asked Peter, at which point Terry fell to his knees in a begging posture. "I have Hugos, you have lots of money, we can come together.", said Peter.
Okay, I've shared a little bit of the evening with you, but now I'm going to find some parties... Leslie Turek, signing out.
Posted by Leslie Turek at 10:16 PM in 4-Friday | Permalink | Comments (0)
1954 Retro Hugo Winners
Best Novel - Farenheit 451 by Ray Bradbury
Best Novella - "A Case of Concsience" by James Blish
Best Novelette - "Earthman, Come Home" by James Blish
Best Short Story - "The Nine Billion Names of God" by Arthur C. Clarke
Best Related Book - Conquest of the Moon by Wernher von Braun, Fred L. Whipple & Willy Ley
Best Professional Editor - John W. Campbell, Jr.
Best Professional Artist - Chesley Bonestell
Best Dramatic Presentation, Short Form - The War of the Worlds
Best Fanzine - Slant, Walter Willis, ed.; James White, art editor
Best Fan Writer - Bob Tucker
Posted by Leslie Turek at 09:41 PM in 4-Friday | Permalink | Comments (0)
Accessibility issues
I was frankly appalled last night that the suite rented by General Technics in the Sheraton Hotel did not allow for access by a friend in a 32" wheelchair. The princely sum of $250 a night is apparently not enough to guarantee access to all. How maddening!
Another friend confined to a wheelchair was just telling me how sad he was that there was no simple "pocket program" (such as a printed grid of major events), or even a posted sign that he could 'drive by' to look at and decide where to go next.
Would anyone on the con staff care to address these issues?
~Amy
Posted by Amy Proni at 02:14 PM in 4-Friday | Permalink | Comments (1)