« My Thursday at the Con: Highlights | Main | Meeting new people at WorldCon »
September 03, 2004
Opening Ceremonies
Opening Ceremonies began with an amusing slide show of the history of Boston fandom, starting with the Boston Tea Party (presented as a particularly rowdy bid party), up to the recent preparations at the NESFA clubhouse. Then last year's con chair Peter Jarvis attempted to pass the gavel on to our chair Deb Geisler, but Deb brought out an even bigger one that she had hidden away.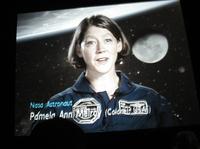 There was also a taped greeting from one of the NASA astronauts, who said that she had been inspired by reading science fiction.


The ceremony also included introductions of Noreascon 4's Guests of Honor: Terry Pratchett, Jack Speer, William Tenn, and Peter Weston.


Posted by Leslie Turek at 01:34 PM in 3-Thursday | Permalink
Comments
Greeting from Los Angeles.
We wish we were there this weekend.
Greetings to Deb, Leslie, Michael and Noami and all our friends.
I can't read the astronaut's name above. What is it and who arraigned the greeting ?
Sorry to hear about the access issues to the hotel rooms. Should laws be passed to require mediation of older large hotels ? Or should con's require all rooms to be accessible at sites they bid ?
73 de KB1CVH/6

Posted by: Peter Grace | September 4, 2004 11:55 AM
Hi Peter, sorry you can't be here.
A general note on all the photos I've posted - if you click on the thumbnails you'll get a popup of a larger version of the photo. The astronaut name then becomes readable as "Pamela Ann Melroy (Colonel, USA)". I believe the greeting was obtained by Pat Molloy, who works for NASA.
Posted by: Leslie Turek | September 4, 2004 02:59 PM
Post a comment