Hal Clement, 1922-2003
We are deeply grieved to report the passing today of Hal Clement: writer, teacher, fan, and much-loved friend of Noreascon Four.

Born Harry Clement Stubbs, Hal saw his first story published in Astounding Science Fiction in 1942. He is regarded as the exemplar par excellence of what is now termed hard science fiction. His works include Iceworld (with an alien protagonist who is a chemistry teacher), Close to Critical, and Mission of Gravity.
He adopted the pseudonym "Hal Clement" because he thought his involvement in science fiction might reflect badly upon him during his undergraduate work in astronomy at Harvard. (He didn't know that his advisor, Prof. Donald H. Menzel, was a friend of Hugo Gernsback, who published the first science fiction magazine in 1926.)
Hal served in the Army Air Corps Reserve during World War II, and he was recalled to active duty during the Korean War.
He earned two masters degrees (in education, in 1946, and in chemistry in 1963) and taught science at Milton Academy, Milton, Massachusetts for 38 years, until his retirement in 1987. He continued to instill a sense of wonder in young (and not-so-young) adults at science fiction conventions with his delightful presentations and slide shows.
We will miss him.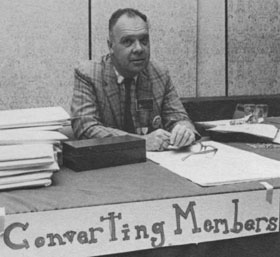 Hal working Registration at Noreascon I. (Photo by Jay Kay Klein)
Addendum:At their business meeting on November 2, the New England Science Fiction Society voted to honor Harry by creating the position of Hal Clement Science Speaker to bring a hard science speaker to each Boskone. At the upcoming Boskone, there will be an exhibit of his written and pictorial work in the Art Show, and a charity auction to benefit the Joslin Diabetes Center will be held in his name on Saturday evening.