Boston in 2001 Parties at LoneStarCon2
The Committee for
Boston in 2001
wants to show you the world.
On Friday, August 29 at 9:30 p.m.
we'll take you
2001 Leagues Under Texas
and
On Saturday, August 30 at 9:30 p.m.
journey with us for a
Night in the Seraglio
Please be our guest for a global celebration
of science fiction and fantasy
at LoneStarCon 2
in San Antonio, Texas
Boston in 2001
Noreascon 4
---
13 pictures of the Boston in 2001 parties at LoneStarCon 2
Photography by Deborah A. King. Click on thumbnail picture to see full size picture.
Kelly Persons and Lisa Hertel at our bid table in the convention center -- 51K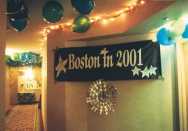 Boston in 2001 banner welcoming fans to our party -- 35K


Champagne glasses are prepared -- 46K


Tim Szczesuil opens another bottle -- 33K


Kelly Persons observes all the balloons for 2001 Leagues Under Texas -- 17K


The partiers arrive! -- 20K


Priscilla Olson prepares the candy sushi -- 14K


Tony Lewis is another sushi chef -- 16K


Gay Ellen Dennett & Claire Anderson serve the shrimp cocktails -- 30K


The partiers return for a Night in the Seraglio! -- 37K


Michael Drawdy serves the strawberry shortcake -- 18K


Fans partying outside on the deck in San Antonio -- 36K


Mark Olson and Mike Zipser among fire and ice in the summer -- 20K

---
Return to the Boston for Orlando in 2001 Home Page
---
For more information about Boston for Orlando in 2001, please write us at:

Boston for Orlando in 2001
PO Box 1010
Framingham, MA 01701-1010
USA

or email us at info@noreascon.org
---
The Fine Print. A listing of the registered service marks used in these pages.
---
Boston for Orlando in 2001 * What is the Worldcon * MCFI * Supporting Boston for Orlando in 2001 * Noreascon 1, 1971 * Noreascon 2, 1980 * Noreascon 3, 1989 * Orlando Links * Boston Links * Favorite Links * info@noreascon.org
---
This page maintained by Adina Adler, graphics created by Teddy Harvia (tharvia@airmail.net), last updated on September 17, 1998.
---